I can't believe it's already Week 4 of the One Room Challenge® .  Six weeks seemed like plenty of time to remodel my little dressing room, but now I'm not so sure!
In case you missed any of them, here are my Week 1, Week 2, and Week 3 posts.
When we left off last week, I had finished stenciling the floor.  It was a lot of work, and now it was time to protect that work.
Protecting the Stenciled Floor
Disclosure:  Affiliate links appear below.
Still following the excellent advice that I'd found here, I covered the stenciled floor with four coats of this Rust-Oleum Verathane finish in satin.
Since this was a small room, I used this Shur-Line paint and stain applicator and got a nice, even finish.  (Of course, not wanting to take any chances, I didn't use an extension handle. I was on my knees at floor level!)
And to reward myself for having come this far, I finally broke out my new HANDy paint tray.  But more on that later.
I applied four coats of the finish, letting each coat dry thoroughly before applying the next.  After the last coat, I let the room just sit empty for a few days to make darn sure the finish was dry.
So, lots of drying time.  But while this was going on, Chris and I were tackling a monster.
The Wardrobe (aka, "The Monster")
Chris and I found this wardrobe listed by a private seller on Craigslist.  I wish I'd taken a photo of it before we set it on sawhorses in our living room.  But at the time, it was all I could do to help him muscle it in from the truck.
So, here it is on sawhorses.
Carrying it down to the basement workshop was out of the question.  This was a huge and solid piece of wood furniture.  It was in great condition and it smelled fresh.  And the best part (besides the price – only $100) was that, according to our measurements, it would fit perfectly into an alcove in the dressing room.
That is, with a few modifications.
Making it Fit
The top piece was wider than the body of the cabinet.  So, the first thing Chris did was pull off that top piece and trim the sides to make it fit the alcove space.
Yes, it would fit – barely.
But there was another problem:  The baseboard.  In order for the wardrobe to fit, the baseboard in that alcove space had to go.
Chris used his Ryobi multi tool for this.  I was a bit worried about the floor, but he didn't damage it.
Meanwhile, I cleaned, lightly sanded, primed, and painted the wardrobe.
The Paint
Again I used my new HANDy paint tray.  It has a feature that I just love:  A magnet holds the paint brush so it doesn't slip into the paint.
Even with a much-used paint brush like mine, with many coats of paint over the metal, the magnet held it.
I used a roller and my Shur-Line edger to apply the primer.
For applying the paint, I used my Shur-Line paint and stain applicator – the same tool I'd used to apply the floor finish. (Of course I still needed to use a small paintbrush for the detail work).
This method gave me what I wanted:  An even application that looked more like a "factory finish" than I could have gotten by using the conventional roller-and-back-brushing method.
And it seemed like less work.
So I applied two coats of the Benjamin Moore "Simply White" cabinet paint – the same paint that I'd used on the moldings and doors in the dressing room.
The Wardrobe Goes Upstairs!
Then Chris and my brother Dan hauled the huge monster up our narrow staircase and muscled it into place in the alcove.
Wardrobe (sans doors and drawers) in place in the alcove. This kind of fit was exactly what I was looking for.  One my goals for the room, which I listed in my Week 1 introduction, was to add furniture that looked built in but was actually removable.
This piece fits the space so well, and finding it on Craigstlist was very fortunate – like finding a needle in a haystack.
If you're into details, you probably noticed the small attic hatch in the ceiling above the wardrobe.  Nothing is stored in that attic but, if there were ever a roof leak, we might need to access that attic space.
So Chris put the wardrobe on these low-profile trundle casters.  Now it can be moved when we need to get into the attic.  And, unless you know to look for them, the casters aren't really that noticeable.
We put little wedges in front of the casters for now, but we're going to anchor the wardrobe to the wall with an easy-to-remove screw.
And then Chris will replace the baseboard that runs along the wall in front of the wardrobe.  But that too will have screws instead of nails so it can be removed if we ever need to roll the wardrobe out.
A "Customized" Shoe Rack
I bought this shoe rack (which is actually called a horizontal cube) from Target because its style and dimensions were perfect for the space I had in mind.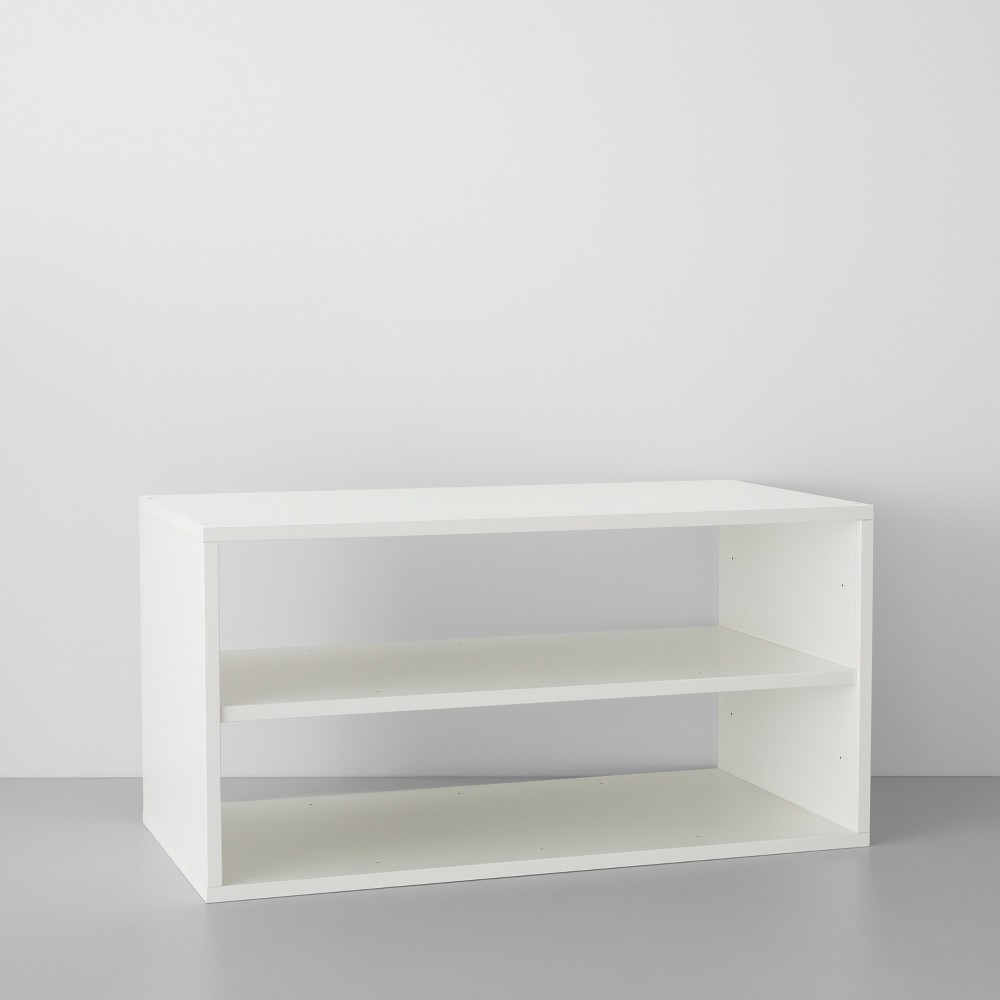 I wanted it to fit flush against the wall, but again the baseboard was an issue.  So Chris carefully cut a small chunk out of the back of the shoe rack to make it fit neatly around the baseboard.
The shoe rack came unassembled, so Chris could make the necessary cuts before he assembled it.
I love that the white of the shoe rack is so close to the Simply White that I've been painting everything.  The only thing I don't like about this piece is that the screw heads are exposed.  But I'm not sure they will be very noticeable once the other pieces we have planned for this wall are in place.
By the way, this shoe rack is the only new piece of furniture going into this room.  All the other pieces will be ones that we already had or that we purchased second-hand.
After all, this is a budget project.
Coming Next Week
We are getting down to the wire, and there is still so much ground to cover. We need to install a second light fixture, a garment rack, a bit of molding, and possibly a wall shelf. Chris has more furniture customizing to do.
And I have more painting – much more.  After the wardrobe went upstairs, I immediately put another piece on the sawhorses in our living room.
Lots of white will be going into the dressing room, but I'll leave you with a little preview of some of the other colors that we'll be incorporating.
There are so many amazing room transformations happening over on the One Room Challenge.  If you get a chance, check out what some of the featured designers and the other guest participants are working on.
For more on this project, see my posts below.
Posts on this website are for entertainment only and are not tutorials.
Want to see more? Browse my photo gallery or check out these categories:
Our Kitchen Remodel Series

Our Master Bath Remodel Series

Entertaining

My Shop

Dan's Workshop

Decorating and Holidays

Our Little Sunglo Greenhouse

Floral Design

Garden Design

The June Bug Diaries

Our Laundry Room Remodel

Exploring

---